Name
Gyoseishoshi Lawyer HAGANO TAKEYUKI Office
(For the pamphlet of our office, please click here.)
Address
ZIP 124-0023
 1-5-18-1307, Higashi-shinkoiwa, Katsushika-ward, Tokyo, Japan

Telephone
03-6869-3635
(When we are out of office, please kindly call to our mobile phone or send an e-mail to our address mentioned below.)
Facsimile
03-6737-1253
Mobile phone
080-8165-2662
E-mail

(We accept enqiries by e-mails for 24 hours.)
URL
http://haganotakeyuki.tokyo/
Office ours※
Monday through Friday:10:00~19:00
Closing ours※
Saturday, Sunday & Holidays, Bon Festivals, End/Beginning of Year

(※If you will consult with us in advance, we are pleased to respond to your enqiries on closing days too as much as we can.)



Thank you very much for your enqiry to "Gyoseishoshi Lawyer HAGANO TAKEYUKI Office".
For your enqiry in English, please click here.


Thank you very much for visiting the homepage of "Gyoseishoshi Lawyer HAGANO TAKEYUKI Office".
I am the Representative Gyoseishoshi Lawyer, Hagano Takeyuki.

As it is shown on the title of this homepage, while I am a Japanese Gyoseishoshi Lawyer, I also am a Chinese Licensed Guide. Through the experience of studying-abroad at the Beijing Language and Culture University, China, taxation consulting business service at one of the world big 4 accounting audit corporation in Guanzhou, Guangdong Province, China and the life experience in China totally more than 7 years, I am well versed not only in the Japanese laws but also in the Chinese laws.




Taking advantage of such special features of our office, we are very much glad to make strong efforts to serve you, aiming to be an bridge among Japan and the clients coming from various countries in the world. So, we will be very much appreciated your favor to select our office and let us serve you.





 Gyoseishoshi Lawyer HAGANO TAKEYUKI Office
 Representative Gyoseishoshi Lawyer
 Licensed Guide (Chinese)
 HAGANO Takeyuki


Gyoseishoshi Lawyer (No. 16080705)
Specified Gyoseishoshi Lawyer (Agent of Administrative Appeal)(No. 16080705)
(暴力団追放)不当要求防止責任者(第16080705号)
Notified Administrative Scrivener (Gyouseishoshi) for Applications to the Immigration Bureau ((Tokyo)Gyo 16 No. 188)
Gyoseishoshi ADR Center-Tokyo candidate of mediator (Foreigners)・手續管理委員候選人(Foreigners・Companion animals・Conditions of rental houses)・受理担當
(※For the leaflet of Gyoseishoshi ADR Center-Tokyo, please click here (Japanese-English ver., Japanese-Chinese (Simplified) ver.))
General Incorporated Association Human and Animal Rights Organization (HARO) Specialist Support Team Member
Licensed Guide (Chinese) (Tokyo No. CH00730)
Society for Testing English Proficiency Semi-1st grade
TOEIC 850 points
The Korean Language Proficiency Test 4th grade
Japan Guide Association(JGA) Tour Guide-Interpreter Search System Resistered Chinese Guide
Specified NPO Legal Person Tokyo Japan-China Friendship Association, Member
Tokyo Prefecture Katsushika Ward Government 地方振兴部文化国际课 International Exchange Volunteer
Chiba Convention Bureau and International Center Volunteer Activities (Language Volunteer (Chinese))
Ichikawa International Association (IIA), Member
Tokyo Chamber of Commerce and Industry, Member
Certified General Travel Services Manager
General Itinerary Control Manager
(Employment Security Act) Employment Placement Manager
(Dispatched Workers Act) Responsible Person Acting for the Business Operator of Dispatching Undertaking
Real Estate Transaction Specialist ((Tokyo) No. 242721)
Certified Condominium Manager (No. 0016030392)
(一般社団法人日本マンション管理士会所属団体・東京都マンション管理士会所属(城東支部)(13-000381)) Building-Manager (No. 16072510)
Class A Qualified Fire Marshal(No. 1650672)
Qualified Disaster Marshal(No. S1650672)
Chief of Money Lending Operations (K160022240)
Food Sanitation Manager
Responsible Person for Special Controlled Industrial Waste
Operation Assistant (Passenger Motor Vehicle Transportation Business/Motor Truck Transportation Business)
Personal Information Protector (incl. Personal Number Act)
The Official Business Skill Test in Bookkeeping 1st grade, The Japan Chamber of Commerce and Industry
License Examination on Book-keeping, Upper grade, The Japan Association of Accounting Education
License Examination on Tax Accounting Consumption Tax Act, 1st grade, The Japan Association of Accounting Education
License Examination on Tax Accounting Corporation Tax Act, 2nd grade, The Japan Association of Accounting Education
License Examination on Tax Accounting Income Tax Act 2nd grade, The Japan Association of Accounting Education
Certified Public Tax Accountant examination (Bookkeeping / Financial-Statements), passed
Bookkeeping and Accounting Test for International Communication (BATIC), Bookkeeper Level
2nd grade Certified Skilled Worker of Financial Planning
Pension Adviser, 3rd grade
Class 1 Certified Securities Broker Representative, examination passed
Certified Specialist of Intellectual Property Management, 3rd grade
Class 3 Special Radio Operator etc.

Kyoto University Agricultural Department, graduated (Bachelor of Agriculture)
Takushoku University Graduate School Commercial Science Depatment Master's Course (Major in Taxiation Laws), graduated (Master of Commerce)
Takushoku University Graduate School Commercial Science Depatment Doctor's Course (Major in Taxiation Laws), completed without doctoral degree




提交给行政机关文件、权利义务・证明事实文件 related services

●Application for the approval of status of residence, naturalization for foreigners
 (For the introduction of our services, please click here (Japanese・English・Chinese) (Vietnamese))
 (The Japan Federation of Gyoseishoshi Lawyer (Certified Administrative Procedures Legal Specialist) Associations (Japanese)(English)(Chinese)(Korean)(Spanish)(Portuguese))
●Establishment of various legal persons
●Application services for the licenses of construction business, real estate brokerage and 公寓管理业
 (For the introduction of our services, please click here (Japanese))
●Application service for the license of industrial waste disposal business
●Application services for the licenses of adult entertainment business and restaurant business
●Application service for the registration of travel agent
●Application service for the license of hotel business industry(民泊)
●Application service for the license of 贷款业
●跟automotive有关各种手续
 (For the introduction of our services, please click here(Japanese))
●Accounting Services
●遗言・继承・成年人监护service
 (For the introduction of our services, please click here (Japanese)(遗言)(继承)(成年人监护)(综合))
●编写民事有关文件(各种合同、存证信函等)service
●著作权注册service
●基于其他各种业法的许可申请service



補助金申請コンサルティング業務
 行政機関等による以下のような各種補助金について、ご相談を承ると共に、行政機関等への提出書類の作成及び申請代理等のサポートを致します。
 ●創業促進補助金
 ●経営改善計画策定事業補助金
 ●経営革新計画
 ●創造技術研究開発費補助金
 ●地域新生コンソーシアム研究開発事業補助金
 ●ものづくり・商業・サービス革新補助金
 ●まちづくり補助金/にぎわい補助金
 ●ひとづくり支援
 ●NEDO各種補助金・助成金
 ●PA各種補助金
 ●産業技術実用化開発事業費助成金
 ●環境活動補助金
 ●低公害車普及助成金制度
 ●クリーンエネルギー自動車等導入促進対策費補助金
 ●高齢者住宅改修費用助成金
  など


金融機関融資コンサルティング業務
 東京都行政書士会が「包括的連携に関する協定」を締結している以下の信用金庫等を中心として、お客様の窓口となり、金融機関からの融資を受けるためのご相談を承ると共に、信用金庫等への提出書類の作成及び申請代理等のサポートを致します。
 ●Japan Finance Corporation
 ●Seibu Shinkin Bank
 ●First Kangyo Credit Association
 ●Johoku Shinkin Bank
 ●Tokyo Star Bank
 ●Asahi Shinkin Bank
 ●Nakanogo Credit Association
 ●Azuma Credit Association
 ●Shiba Shinkin Bank
 ●Tokyo Shinkin Bank
 ●Sawayaka Shinkin Bank
 ●Tama Shinkin Bank
 ●Kosan Shinkin Bank
 ●Greater Tokyo Credit Association
 ●Tokyo Chamber of Commerce and Industry
  など


 当事務所代表は、行政書士法第1条の3第1項第2号及び第2項に定める「特定行政書士」であり、行政不服申立て代理人として、行政書士が作成した官公署に提出する書類に係る許認可等に関する行政庁に対する不服申立ての手続について、お客様のサポート致します。



行政書士法(昭和二十六年二月二十二日法律第四号)
(業務)
第一条の二 行政書士は、他人の依頼を受け報酬を得て、官公署に提出する書類~略~を作成することを業とする。
2 ~略~
第一条の三 行政書士は、前条に規定する業務のほか、他人の依頼を受け報酬を得て、次に掲げる事務を業とすることができる。ただし、他の法律においてその業務を行うことが制限されている事項については、この限りでない。
一 ~略~
二 前条の規定により行政書士が作成した官公署に提出する書類に係る許認可等に関する審査請求、再調査の請求、再審査請求等行政庁に対する不服申立ての手続について代理し、及びその手続について官公署に提出する書類を作成すること。
三 ~略~
四 ~略~
2 前項第二号に掲げる業務は、当該業務について日本行政書士会連合会がその会則で定めるところにより実施する研修の課程を修了した行政書士(以下「特定行政書士」という。)に限り、行うことができる。






Investment to China service

跟本事务所提携的中国商务咨询公司合作,从中日双方的角度支援贵公司的中国进出。



Certified Condominium Manager Services

●公寓管理consultation service
●公寓管理合伙顾问 service
●关于公寓管理委托合同的助言・修改 service
●公寓管理规约・使用细则的起草・修改 service
●支援大规模维修工程计划 service
●支援长期维修计划修改 service

etc.



Service Fees (Not incl. consumption tax (VAT))(※)


下面报酬额只显示标准额。按条件有可能变化。



 Consulting Fee (single consultation)
我们接受任何Japanese或者Consultation with Chinese(Mandarin/Cantonese)(*)(任何语言的consulting fee都是一样。)。
(*【Consultation with Japanese/Chinese (Mandarin)】可以直接向代表Gyoseishoshi Lawyerconsultation。)
(*【Consultation with Chinese (Cantonese)】本事务所助理听取consultation,跟代表Gyoseishoshi Lawyer商量之后回答(也可代表Gyoseishoshi Lawyer同席)。)

e-mail方式
只用一个语言(Japanese或Chinese)
JP¥1,000/time(以A4来算1张左右的回答为标准)(*)
使用两个语言(Japanese及Chinese)
JP¥2,000/time(以A4来算1张左右的回答为标准)(*)
电话方式
JP¥3,000/30 minutes(30分钟内的结束为标准)(*)
面谈方式(包括Skype、Line、微信等)
JP¥5,000/hour(*)
(*初次consultation(电话・面谈方式时30分钟内)为free of charge。)
(*如果电话・面谈方式的初次consultation超过了30分钟,我们对于超过30分钟的部分收取consulting fee。)
(*另外,如果您consultation之后下了以下任何 service的订单时,直到第2次consultation为止作为free of charge。)



 法务顾问费(签订月次顾问合同方式的consultation)
我们接受任何Japanese或者Consultation with Chinese(Mandarin/Cantonese)(*)(任何语言的法务顾问费都是一样。)。
(*【Consultation with Japanese/Chinese (Mandarin)】可以直接向代表Gyoseishoshi Lawyerconsultation。)
(*【Consultation with Chinese (Cantonese)】本事务所助理听取consultation,跟代表Gyoseishoshi Lawyer商量之后回答(也可代表Gyoseishoshi Lawyer同席)。)

Indivisual客户
事业者以外
只用e-mail方式consultation(15 times or less/month)
JP¥10,000
使用e-mail、电话或面谈方式consultation(10 times or less/month)
JP¥20,000
事业者
只用e-mail方式consultation(15 times or less/month)
JP¥15,000
使用e-mail、电话或面谈方式consultation(10 times or less/month)
JP¥30,000
Legal person客户
只用e-mail方式consultation(15 times or less/month)
JP¥20,000
使用e-mail、电话或面谈方式consultation(10 times or less/month)
JP¥40,000
(*consultation次数超过所定次数时,对于超过部分收取以"单个consultation"规定来计算的consulting fee。)



 涉外 related services(*)

简易归化许可申请(Indivisual)
JP¥150,000
简易归化许可申请(事業主又はLegal person役員)
JP¥150,000
在留资格認定証明書交付申请
JP¥100,000
在留资格变更许可申请
JP¥100,000
在留期間更新许可申请
JP¥50,000
(如有换职时 JP¥100,000)
永住许可申请
JP¥150,000
申请代办
加上上述项目,对本事务所委托申请代办时,按下面※3来计算其报酬。
 (*对于需要翻译的文件,我们另收translation fee。)
 (*跟涉外有关Gyoseishoshi Lawyer service一块下了翻译的订单时,translation fee打7折。)



Legal person related services
| | |
| --- | --- |
| Preparation of documents for incorporation of a stock company (Kabushiki Kaisha (KK)) | JP¥100,000 |

construction business・real estate brokerage・公寓管理业 related services
| | |
| --- | --- |
| construction business许可申请 (New) by Prefectural governors | JP¥150,000 |
| construction business许可申请(更新) by Prefectural governors | JP¥100,000 |
| 経営審査事項申请 | JP¥150,000 |
| Real Estate Broker 许可申请 (New) by Prefectural governors | JP¥100,000 |
| Real Estate Broker许可申请(更新) by Prefectural governors | JP¥50,000 |
| Application for the registration of Real Estate Transaction Specialist license | JP¥10,000 |
| Application for the registration of 公寓管理业者 | JP¥10,000 |
| 编写公寓管理规约 | JP¥50,000~ |

Travel Agent related services
| | |
| --- | --- |
| Application for the registration of Class I Travel Agent (New) by the Commissioner of the Japan Tourism Agency | JP¥200,000 |
| Application for the registration of Class II Travel Agent (New) by Prefectural governors | JP¥150,000 |
| Application for the registration of Class III Travel Agent (New) by Prefectural governors | JP¥150,000 |
| Application for the registration of Limited-Area Travel Agent (New) by Prefectural governors | JP¥130,000 |
| Application for the registration of Travel Agent's Business Representative (New) by Prefectural governors | JP¥120,000 |
| Associations of Travel Agents (JATA, ANTA) 入会申请 | JP¥50,000 |
| Application for the 旅游业注册更新 | JP¥120,000 |
| Application for the registration of 旅游业注册变更 | JP¥120,000 |
| Application for the 中国国民访日观光旅游受理公司指定 | JP¥150,000 |

贷款业 related services
| | |
| --- | --- |
| Application services for the licenses of 贷款业 (New) by Prefectural governors | JP¥150,000 |
| Application services for the licenses of 贷款业 (New) by Prime Minister | JP¥180,000 |
| Application services for the licenses of 贷款业(更新) by Prefectural governors | JP¥80,000 |
| Application services for the licenses of 贷款业(更新) by Prime Minister | JP¥100,000 |
| 贷款 service受理主任资格注册申请 | JP¥10,000 |

Adult entertainment, restaurant business related services
| | |
| --- | --- |
| Application services for the licenses of adult entertainment business (1号~7号) | JP¥200,000 |
| Application services for the licenses of adult entertainment business (8号) | JP¥200,000 |
| 半夜提供酒类restaurant business营业开始备案 | JP¥50,000 |
| Application services for the licenses of restaurant business | JP¥100,000 |
| Application services for the licenses of hotel business industry | JP¥150,000 |

继承 related services
| | |
| --- | --- |
| 起草遗言 | JP¥50,000 |
| 调查继承人・遗产 | 按下面※来计算其报酬。 |
| 编写遗产分配协议 | JP¥100,000元~ |

Copy right注册 service

Automotive related services(*)
取得车库证明
东京都23区・千叶县西部(浦安市・市川市・船桥市・松户市・流山市・习志野市・柏市・千叶市)
JP¥10,000
东京都(除了23区以外)・千叶县(除了上述以外)
JP¥15,000
Automotive登记
足立・品川・习志野・柏车牌
JP¥5,000
练吗・野田・千叶・成田车牌
JP¥6,000
袖个浦车牌
JP¥7,000
(*另外,也需要缴印花费・车牌费・交通费等费用。)



Accounting Services
Journals/Month

Monthly Service Fee

Option Services

凭证归档

凭证数码化(*)

30 or less journals

JP¥3,000

JP¥3,000

JP¥1,500

50 or less journals

JP¥4,800

JP¥4,800

JP¥2,200

100 or less journals

JP¥9,000

JP¥9,000

JP¥4,000

150 or less journals

JP¥13,000

JP¥13,000

JP¥5,500

200 or less journals

JP¥17,000

JP¥17,000

JP¥7,200

More than 200 journals

另外报价。
(*只是选择了凭证归档服务的客户才能选择凭证数码化服务。)

※1 上述报酬额均不含印花、证纸、注册许可税、行政机关缴纳金等费用。
※2 如果需要跟其他专业人士合作的话,上述报酬额不含该其他专业人士的报酬。
※3 除了上述费用之外,如果发生以下费用,需要另缴各自费用。

Travel expense(交通费・住宿费 etc.)
Actual cost
现场调查费
Whole day JP¥60,000
Half day JP¥30,000
(8 hours count as a whole day.)
户外工作(现场调查除外)日薪
Whole day JP¥36,000
Half day JP¥18,000
(8 hours count as a whole day.)
When it comes to visas, status of residence and naturalization, leave to

 Gyoseishoshi Lawyer・Licensed Guide (Chinese)
HAGANO TAKEYUKI Office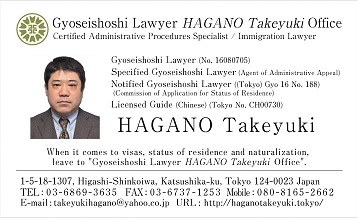 TEL:03-6869-3635
FAX:03-6737-1253
Mobile:080-8165-2662
E-mail:

行政書士・通訳案内士(中国語) 波賀野剛如 事務所 HP内をカスタム検索